Forensic Art and Age Progression
Article contributed by
Ms. Charlaine M. Michaelis
Posted Thursday, April 29, 2004, at 02:09 AM, EST
In my experience as a forensic artist, age progression is an extremely useful tool in assisting law enforcement to locate and/or identify both suspects and victims of crime.
Two techniques are generally used by the artist to generate an up to date portrait: computer generated or hand drawn. I often use a combination of both and I personally find the use of a high end software, such as Adobe Photoshop, instrumental in developing a library of skin textures and facial features. Prior to beginning the process, it's imperative to attempt to obtain as much information on family aging traits, weight tendencies and the life style of the person being rendered. If possible, a sharp photograph from which to work would be ideal.
Sadly, this information isn't always forthcoming. Some age progressions I've done were executed from poor quality photos with little or no information on family genetics.
The artist should have a solid knowledge of the aging process or a partnership with a Forensic Anthropologist in order to authenticate the age progression. Features such as the nose and ears do continue to grow somewhat. Upper lids droop, lips become a little thinner and, depending on lifestyle and economics, there may be tooth loss. Hair will generally thin on the head but eyebrows may thicken or grow. Lines that begin in the earlier years will become more pronounced. Pouches or circles may appear beneath the eyes and creases or sagging skin may appear on the neck.
Depending upon the years required for the age progression and family history, glasses may be added to the mix. In my observations of the aging process, I've noted that age progressions would, in my opinion, best be executed in two year increments. In other words, within the first two years of a person gone missing, there should be little change unless it's by design and a deliberate attempt by the person being age progressed to alter their appearance. After two years, some changes will occur. Once again, this is largely determined by genetics and life style. The use of drugs, excess alcohol, smoking and poor nutrition are all factors in rapid aging in adults.
The criteria for aging children is somewhat different. It was best explained by Karen T. Taylor in her book, Forensic Art and Illustration: The first 20 years are anabolic, growing and developing; the years after are catabolic, maturing and degenerative.
I recently completed an Age Regression for the parents of a twelve year old boy who'd been adopted at age 5 and had no photos of himself prior to that age. Because this was an issue that always begged the question of what he looked like as a baby, his parents commissioned me to regress his photos to earlier years as a Christmas gift to him. I used his school photos and my knowledge of various stages of cranial and facial growth in children to develop pictures of him at the approximate age of two. I received a letter from him, thanking me and telling me it was the best Christmas gift he'd ever received and, in his words, the pictures were "cool".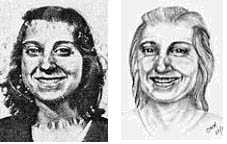 My work however is largely centred on the under-represented missing adult. In one particular case, the only available photo of the woman to be age progressed was a poor quality passport photo taken over 20 years ago and sent to me via e-mail. I had no particulars on family history or photos of other family members. Angela Hartman had come to Canada from San Francisco some 21 years ago to attend college in Peterborough, Ontario. Because she had arrived early, Angela decided to see some of the country. No one has heard from her since August 22, 1983. Angela was last seen in either Ottawa or Calgary.
Although age progression isn't an exact science, I believe that enough information can be garnered by family photos, history and lifestyle, to be an integral part in an investigation and search of a missing person.
About the Author
Charlaine is a freelance Forensic Artist from Toronto, Ontario, Canada. Her passion for drawing the human face has led her to explore and develop her training in 2 and 3 dimensional facial re-construction for the purpose of identification. More recently, she has turned her hand to age progression with the hope that, through her work, she can help to bring a loved one home. Charlaine has been a fine/graphic artist for over 25 years, initially specializing in pencil portraits. Her formal training began at the University of Ottawa and is an "on-going endeavor". Charlaine is a Volunteer Artist for the EDAN Project (Everyone Deserves A Name) and is the Area Director for Alberta /Saskatchewan with the DoeNetwork . She also volunteers her time to do age progressions for OutpostforHope.
Ms. Charlaine M. Michaelis can be contacted at
Email: m.char@rogers.com
Website: www.forensicartist.ca